Product
100%

Money Back Guarantee
HEALTH BENEFITS OF DIVYA KAMDHENU
A2 DESI COW GHEE IN YOUR DIET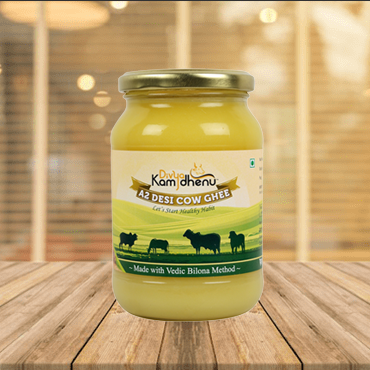 HEART :
Helps to keep blood pressure normal & Healthy heart.

BONE :
Lubrication of joint. Important for bone health. Builds strong bones.

BRAIN :
Improves intelligence and memory power. Good for nerves and brain. Aids in overall brain Health.

SKIN/ HAIR :
Helps in dry Skin and Dark Circles makes Glowing skin & cures hair fall.
EYE :
Enhances and improves eyesight. It helps to control eye pressure. Beneficial to glaucoma patients.
IMMUNE SYSTEM :
Removes impurities from the body & strengthens the immune system.


CHOLESTEROL :
Reduces Bad Cholesterol (LDL)
Improves Good Cholesterol (HDL).

Useful - Helpful In
Migraine
Brain tonic
Weakness
Hyperacidity
Constipation
Ulcers
Anti-viral / fungal
Removes stubborn fat
Helpful for pregnancy
Aids weight loss
Promotes restful sleep
Needed for vitamin D assimilation
Improves Intestine
Fights against cancer
Used in 300 reactions in body
Improves energy levels
Improves muscle and tenoon functoning
Good for muscle strength
Good for growing kid
Slow down aging process
POWER HOUSE OF VITAMINS AND ACIDS
WHICH PROMOTES GOOD HEALTH
Learn About Some Useful Facts
What is A
1

and A

2

milk - Video courtesy: Dr.Devinder Sharma and focus haryana
Benefits Of Ghee - Rujuta Diwekar (Celebrity and Annant Ambani's Dietitian)
IIT DELHI'S RESEARCH ON INDIAN DESI COW
ADULTERATION How to find at home whether "GHEE" is adulterated or not
Stay in Touch